Reviews
Sis……..
I just wanted to write you a note and tell you how much I love Johnny and Rocky  Today was a trail ride day at York Hills.  I let a friend of mine ride Rocky and I rode the "wild man" Johnny.  She had never ridden a walking horse before, although she is a very good rider.  Rocky won her over in no time flat.  When I heard her gaiting along behind me, laughing all the way, it made my heart smile.  When we came back from our first ride, one of her students rode out with me on Johnny and her on Rocky, as well.  Again the laughter came to me with this young girl saying "he's SO SMOOTH!"  Johnny was his usual self for me – a bit of a terror at first, but then he settles into being a more than perfect trail mate.  I love them both so much.  And CJ is coming along perfectly.  I am riding her lightly in the round pen – walking and turning.  She's so kind and gentle with me……..I simply adore her.
You came to my thoughts today as I rode on Johnny through the lovely woods at York Hills, touched with fall colors and brilliant sunshine.  I wished you could have been riding beside me.  I wished you could hear my friend rave about how wonderful Rocky is.  He's an awesome representative for his breed – and for horses in general, I think.  I remember you saying you wished he would find a home where he could "bond."  Well, every time I swing a leg over him, or hold his not exactly elegant head in my arms…….I know he's found his bond here with me
Hope you are well.  I visit your website often and look at the horses you have.  May God keep you safe and well.  Drop a line when you can.
Hugs from your unknown, but not unfamiliar sister in Indiana….
b
Owner's Reply;
This is our friend Barb M. in Indianna that origianally purchased (in 2007) BigJohnny and Rocky from us from a video tape and a contract that gave her a money back return policy if horses were not as advertised.  (She bought our boys site unseen). 
A few months later she bought the beautiful Calamity Jane (CJ), a 4 month old TWHBEA black and white filly. (See filly on home page with black mare). 
Though we have never met face to face, she is my "Hoosier Sister" and she updates me regularly on our precious horses and the happiness they have brought into her life. 
These messages make me beem with pride (and cry a few tears of gratitude and joy), while staring at this computer screen late into the night. 
I know God works through people and that their are no "coincidences".  Each person I meet is sent from up above. I am grateful for this opportunity to place horses in really great homes.  I hope you enjoy these kind remarks. 
Melissa
Hi Melissa,
Okay, so I vowed not to be too hasty and send off an email until Kip had spent some time with us, we got to know each other, etc.  I was really tough on myself, because I wanted to email you every night!  I think he has been here long enough, though, that I can finally allow myself the luxury of emailing you about this wonderful guy I have brought into my life!  I am totally in love, and my poor husband is an outcast!  I have been riding Kip almost every morning before I go to work, and on the weekends Jess and I ride together.  He is just the sweetest, most agreeable horse I have ever owned.  He can be a little apprehensive about leaving the others when I ride during the week, but is never balky, and by the second day, just figured out that "when this lady is done with me, I'll be back with the others".  The times when Jess and I ride together, her TB is tense and excited, and Kip just marches along with his steady eddy gait.  The only problem I have experienced, and it's not his problem, is keeping my saddle in place.  It slides back some.  I am trying out a non-slip pad right now to see if that helps.  I have come back to the barn only to find the girth almost in the "bucking strap area", and have been completely amazed that he tolerates it!  He is such a love.  I have visited your website and seen our photos there on the horses.  What a wonderful experience we had at your farm, and what a wonderful service you perform for people like me.  Even my husband was impressed when Don unloaded Kip and he just stood there (while all the horses on my farm were running around like idiots).  He has been like that ever since.  I cannot thank you enough for bringing us together, and for your honesty, openness, sincerity, and hospitality.  This guy is a keeper, and we are only beginning our journey together.  I look forward to "playing" with him every day, and he seems to love the attention, even if it does mean work.  I have been dying to email you, and to keep in touch, but felt I needed to really give this some time to make sure it was for real!  I hope all is well with you and the staff at the farm.  I do monitor your website, just to see who's new and what's going on down there, and will spread the word of my wonderful experience to anyone who will listen, of course, when they see what a great horse I have, they all want to know where he came from (especially at that age!!).  I hope you don't mind if I email occasionally, just to touch base.  I really can't begin to thank you enough for what you do.  Please extend my thanks to Don too for his assistance, advice, and honesty.  You guys are the greatest!
Best regards,
Diane Keil and KIP!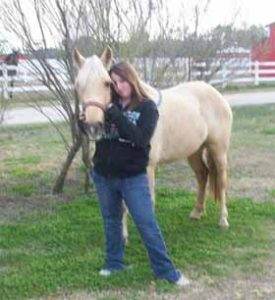 Buttercup
Sold to Julia
Breed: Tennessee Walking Horse Breeders and Exhibitor's Association
Color: Palomino
Sale: April 2007
Hey Melissa. I wanted you to know that Buttercup and I have been jumping. We have done one show so far and we got 1st place in one division and 2nd place in 2 other divisions. We are going in a 2`7 jumping show this sunday. I think Buttercup is an amazing horse and I thank you for selling her to us.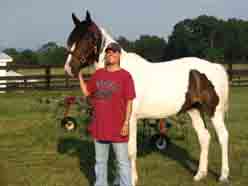 Rolex
Sold to Melissa T.
Breed: Tennessee Walking Horse
Color: Black and White Tobiano
Sale: June 2007
"I've loved horses for my whole life and I've worked at horse farms for the last 12 yrs…. half of those at a TWH farm, where I fell in love with the breed because of their friendly personalities and their great, smooth ride. I'm 43 and finally got my first horse for my anniversary and what a horse I got! He's my Buddy!
Thanks Melissa & trainer, Don for my wonderful new friend! I have to also say that even though I don't live close by, I've gained a friend in Melissa (of Black Widow Farm)! She is a wonderful person!"
Melissa T.
Annapolis, MD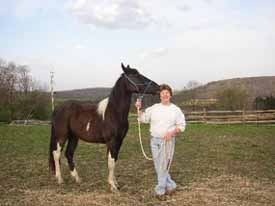 Pride
Sold to Joyce S.
Breed: Spotted Saddle Horse Breeders and Exhibitors Assc.
Color: Black and White Tobiano
Sale: June 2007
My experience with Melissa and her staff has been exceptional. After a couple months of checking the website, e-mails and riding 3 of her horses, she was able to match me up with the perfect horse! Pride is everything I had been hoping for. I have limited riding experience and had been looking for a small, quiet horse with a good mind and some trail experience. She assured me if I remained patient she would find me a good match. True to her word, she did just that. She could have sold me any number of horses, but I can say without hesitation that she was more interested in matching my riding ability to a horse….than just selling me a horse.
I am glad to have met her and will keep in touch for any other horse needs I may have.
A special Thanks to Don, who is patient and entertaining and who made my trail rides fun and informative. And Ryan who, who groomed Pride the day I picked him up and who was never too busy to lend a hand and answer questions.
I love my new horse, and have ridden him 4 times in the first 10 days! Thanks again Melissa….I am looking forward to spending time with my new partner. Joyce Stripp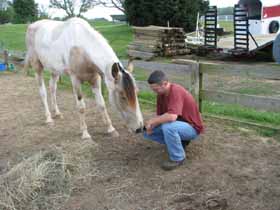 Buttermilk
Sold to Brian B.
Breed: Spotted Saddle Horse Breeders and Exhibitors Assc.
Color: Buckskin and White Tobiano
Sale: April 2008
I would be happy dealing with Melissa again, and look forward to keeping in touch for a long time to come. Buttermilk is a great mare with lots to offer, could not be happier with how she is doing. Melissa is very easy to work with and quick to respond on the phone and email. I will be pointing anyone looking for a good horse to Melissa's farm and know she would do her best to match them up with the right horse.
Brian Barrett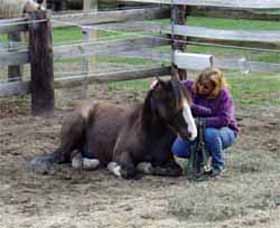 Hi Melissa,
I would just like to thank you for selling me this perfect horse. His gaits are to die for and he is a trustful gelding. I have owned him now for 3 years and he is everything you said he was plus a lot more. His barn name was "Little Britches" but I have changed that to "Q"
He gaits like a dream and is always willing to do as I ask. He is doing great on pleasure/trail rides and excels in trail riding events.
I am so thrilled with Q that I would not purchase another horse from anyone else but you…
Happy trails and thanks again,
Denise Francis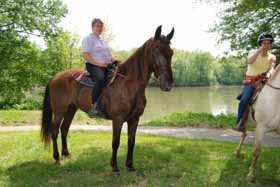 I had been looking for the right horse for eight or nine months before I purchased Roscoe. During that time, I experienced a lot of emotional ups and downs. I had almost given up when I located Melissa's website. She thought that Roscoe would be ideal for me. I have to admit; I wasn't so sure. But when Roscoe and I went on our first trail ride alone, I knew that he was the perfect horse for me. Melissa knew this long before I did! Pat Parelli stresses the importance of having the right horse for what you want to do. Thanks to Melissa, I do.
Karen K.